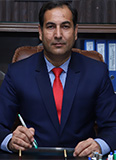 Prof. Dr. M.Suleman Tahir (Vice Chancellor)
Khwaja Fareed University of Engineering and Information Technology, Rahim Yar Khan
Professional Profile:
Innovative team leader and motivator with strong management skills, along with more than 23 years of supervisory experience within team-oriented style of management that promotes the team's personal development and productivity.Started three postgraduate academic programs at faculty of engineering.

More than 23 years experience in managing government-sponsored programs that have been cited as professional, innovative, and responsive to community's needs. Started 03 community training projects under umberalla of NAVTTC of worth 28 Millions.

Author of three books approved by HEC and also author of more than 50 national and international research articles published in different impact factor journals.

Also PI of 05 Research project from HEC worth 28 Millions

Supervise more than 40 M.S students and 1 Ph.D student, 03 PhD students registered

As convener works committee University of Gujrat completed 15 construction projects worth 2000 millions
Research Projects:
Completed
Bio-gas from animal waste" (Rs100, 000) By: UOG (2012-sept) Prof. Dr. M. Suleman Tahir,Mr. Danish, Ijaz (2012)

Rs 11.2 million "Coal-water slurry as an alternative fuel" By: (HEC) Prof. Dr. M. Suleman Tahir, M.Saleem (2015)

Rs. 0.5 million. Absorption of Surfactant on Reservoir rock during enhanced oil recovery

Rs. 0.5 Million. Numerical modeling to control flow induced vibration for multicylinder arrangements

Rs 15 million (PMYSD, NAVTTC, 2018

Rs10 million "(PMYSD, NAVTTC, Year 2017).

Rs 8 million (PMYSD, NAVTTC, 2018)
Approved
TDF Rs 11.2 million HEC- industry

Rs. 0.5 million. Regional Potential of Biodiesel Production from slaughtering waste.